The Best Local Winter Beers to Drink with St. Louis-Style Pizza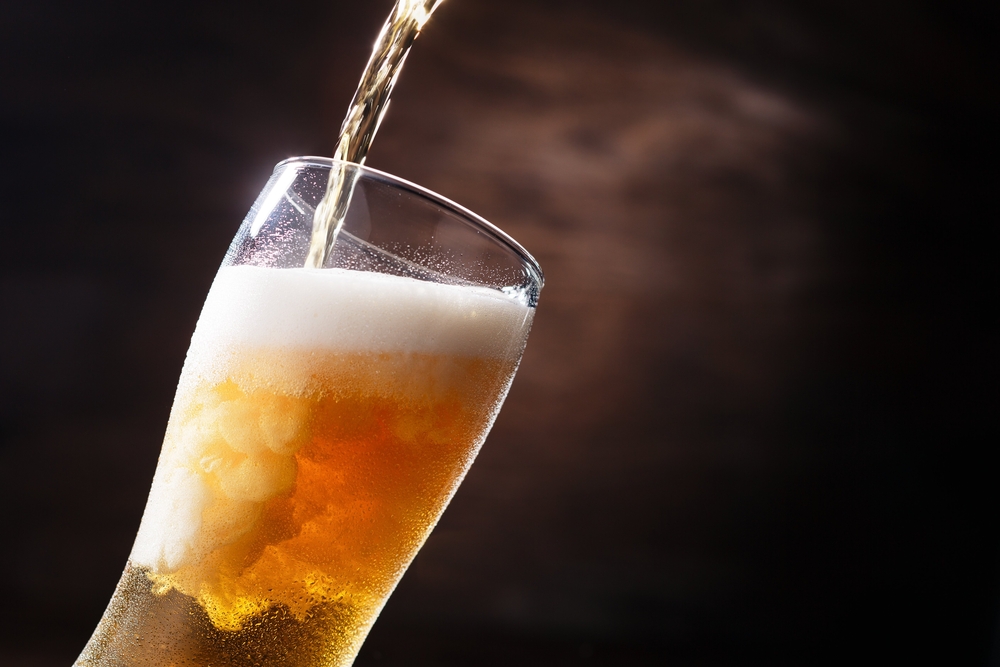 Peanut butter and jelly, coffee and donuts, macaroni and cheese: some flavors just belong together. Of course our go-to favorite flavor combination is pizza and beer! Give this classic combination an upgrade by pairing Dogtown Pizza with some of the best local winter beers St. Louis has to offer. Featuring brews from Schlafly, 4 Hands, Urban Chestnut and more, explore our recommendations for the best local winter beers you can drink with your favorite Dogtown Pizza variety below!
Sunday Afternoon: Hot Wing + Pumpkin Ale
It doesn't get more classic than hot wings and pizza while watching a Sunday football game. As everybody knows, Dogtown Hot Wing Pizza gives you the best of both worlds. Shredded hot wing-style chicken, mozzarella, and spicy wing sauce, all piled high on our all-natural cracker-like crust. Add some seasonal charm by pairing with Schlafly's Pumpkin Ale. The harvest spices taste just like fall and the full-bodied sweetness gives a nice balance to the spice of the Hot Wing Pizza. All the flavors of hot wings, pizza, and pumpkin pie? Where do we sign up?!
Veggie Lovers: Veggie + Snake Oil
Dogtown Veggie Pizza is a thing of beauty: earthy mushrooms, sweet red onion, and crunchy bell pepper, all on our tangy sauce with creamy cheese. It takes a complex flavor profile to match up, but it didn't take us long to find 4 Hands Brewery's Snake Oil. With notes of citrus, peach, and tropical fruit, combined with carmel malts, this full-body Red IPA matches our Veggie Pizza flavor for flavor. Anyone who says veggies are boring hasn't tried this pairing yet!
Carnivore Party: Four Meat + Kinsale Foreign Extra Stout
Carnivores, this one's for you! Salsiccia, pepperoni, hickory-smoked bacon, and ham. Do we really have to say anymore? Pair it up with Urban Chestnut's Kinsale Foreign Extra Stout, historically generously hopped and full of roasted malt flavors, this creamy and sweet black stout gives an ideal balance to the salty, meaty flavors of Dogtown's Four Meat Pizza.
Classy Classic: Tomato Basil Garlic and Plush
It's no secret that we love our TBG! Pair it up with 4 Hand's Brewery's Plush. Light and effervescent with a delicate white wine fruitiness, Plush is the perfect pairing for our take on the Margherita pizza. Tomato, basil, and garlic combine for a refreshingly classic taste, and aren't overpowered by the delicate saison. Give this pairing a try: you won't regret it!
Breakfast for Dinner: Bacon Bacon and Coffee Stout
Pizza and coffee is hard to beat, but since we're talking about pizza and beer, we decided to try pairing Dogtown's Bacon Bacon Pizza with Schlafly's Coffee Stout―and it's a winner! The home-cooked, hand-torn bacon and creamy cheese combines with the flavors of premium French roast and traditional stout better than we could have imagined. This is the dinner version of the leftover pizza and espresso we used to have for breakfast back in college.
Remember Summer: Deluxe and Hard Root Beer
Feeling like some good, old-fashioned summer nostalgia? Try Dogtown's Deluxe Pizza with O'Fallon Brewery's collaboration with Fitz's Bottling Company: Fitz's Hard Root Beer. The flavors of caramel malt, pure cane sugar, sassafras roots, vanilla and spice blend paired with Dogtown's Deluxe Pizza will bring back memories of warm days and good friends, even in the chill of winter.
Loved our recommendations for the best local winter beers to drink with DTP? Let us know what your favorite pizza and beer pairings are by telling us in the comments below!