10 Things You Can Do With a Year's Worth of Free Dogtown Pizza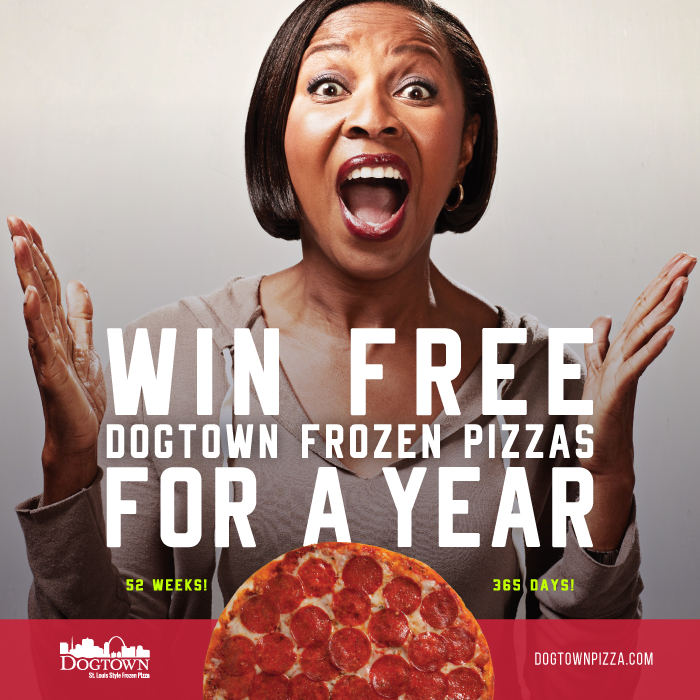 In case you haven't heard, starting July 1, you have the chance to win a whole year's worth of Dogtown Pizza! That's a case of 10 pizzas every month for 12 delicious months. You'll have enough pizza to last you 52 weeks. Or 365 days, whichever way you slice it. In other words, all the Dogtown Pizza you can eat for a year. For free.
With that much cheesy goodness at your disposal, you're probably wondering what you would even do with that much free pizza. So we're here to help you out. Behold—here are 10 awesome things you can do with a year's worth of free Dogtown Pizza.
#1. Build a sculpture of Abraham Lincoln out of pizza.
Just because you can.
#2. Teach your cat how to count pepperoni.
Every feline should know basic arithmetic.
#3. Decide, once and for all, which is better: Sweet BBQ Chicken or Hot Wing Pizza?
If you can solve this for us, please let us know.
#4. Challenge yourself to a pizza eating contest.
Can you eat an entire case of pizza by yourself? You have a year to find out.
#5. Pizza party. Every. Single. Night.
Who's the most popular person in STL? Uh, that would be you.
#6. Eat pizza for every meal.
Breakfast pizza, anyone?
#7. Perfect your pizza cutting technique.
A year from now, you'll have the flyest cut in all the land.
#8. Construct the playhouse of your dreams.
You have to do something with all those cardboard boxes lying around.
#9. Pay for everything in pizza.
Stacks on stacks on stacks (of pizza).
#10. Explore your true pizza personality.
Mixing and matching DTP varieties every month means you can get to the heart of who you really are…pizza-wise, that is. Are you all meat all the time? Just veggies? Or maybe you like a bit of everything? (Deluxe Pizza for the win!) What does this say about you? SO MANY QUESTIONS TO BE ANSWERED.
Enter to Win Free Dogtown Pizza for a Year
Winner winner pizza dinner! The Great Dogtown Pizza Giveaway runs July 1 through July 31. You'll not only receive free Dogtown Pizza for a year, but you'll also win your very own countertop pizza oven and handy dandy pizza cutter (you know—so you can perfect your pizza cutting technique). Enter to win today!
What would YOU do with a year's worth of free Dogtown Pizza? Let us know in the comments below!